︎︎
Mind the Edge: The Merrimack River City
We believe that each town along the Merrimack River cannot develop independently. Our ambition is to rethink the river and reorient the region towards a revitalized resource. Our project proposes a regional park system to create a regional identity in order to share, manage, and leverage resources.

With a combined population approaching that of Boston, we believe that the new Merrimack River City has the potential to challenge how the scale and scope of a successful New England city performs.

The following work was completed in collaboration with Jamie Edindjiklian.
The Merrimack River, which runs 118 miles from New Hampshire to Massachusetts has been navigated and productively used since the seventeenth century. It was the source of economic prosperity for textile mills, shoe factories, and for the transport of goods.


In the current economy, the towns along the Merrimack River are struggling. This is due in part to the proximity to New Hampshire, which has 0% sales tax. Presently, most of these towns are at the end of rail lines. They are now mostly bedroom communities whereas they were once cottage industries or large manufacturing centers.


Our project remedies some of these issues with the agency to propose future, more extensive development for the purposes of linking the towns along the Merrimack River. The river that once defined the towns, now separates them. Our project imagines the river in the future as joining these towns by a regional park system.
After analyzing the existing infrastructure in this region, we propose the following scales of operations:

Recreational and Ecological corridor
A riverfront trail for recreation and leisure which includes the infrastructural treatment, storage, and use of water. Along this trail, the interventions range in magnitude from articulating a surface with paint to full rest areas.

Aquatic Commons
These conditions are intensified at the trailheads, or at a larger scale operation on the river in Lowell and Haverhill which includes education, research, recreation, and entertainment facilities. These urban spaces offer a new experience of the river, supported by local institutions and businesses, such as the University of Massachusetts.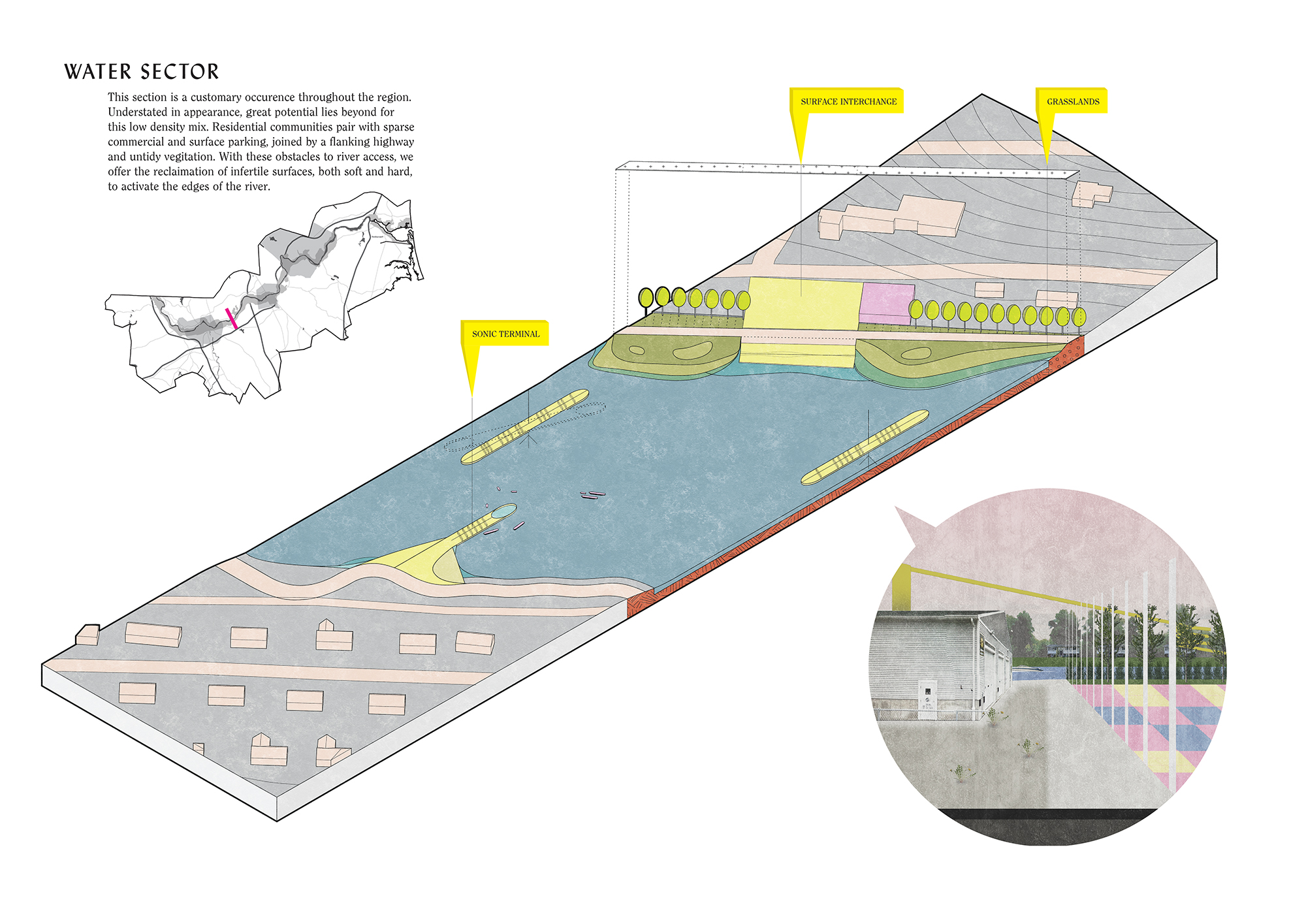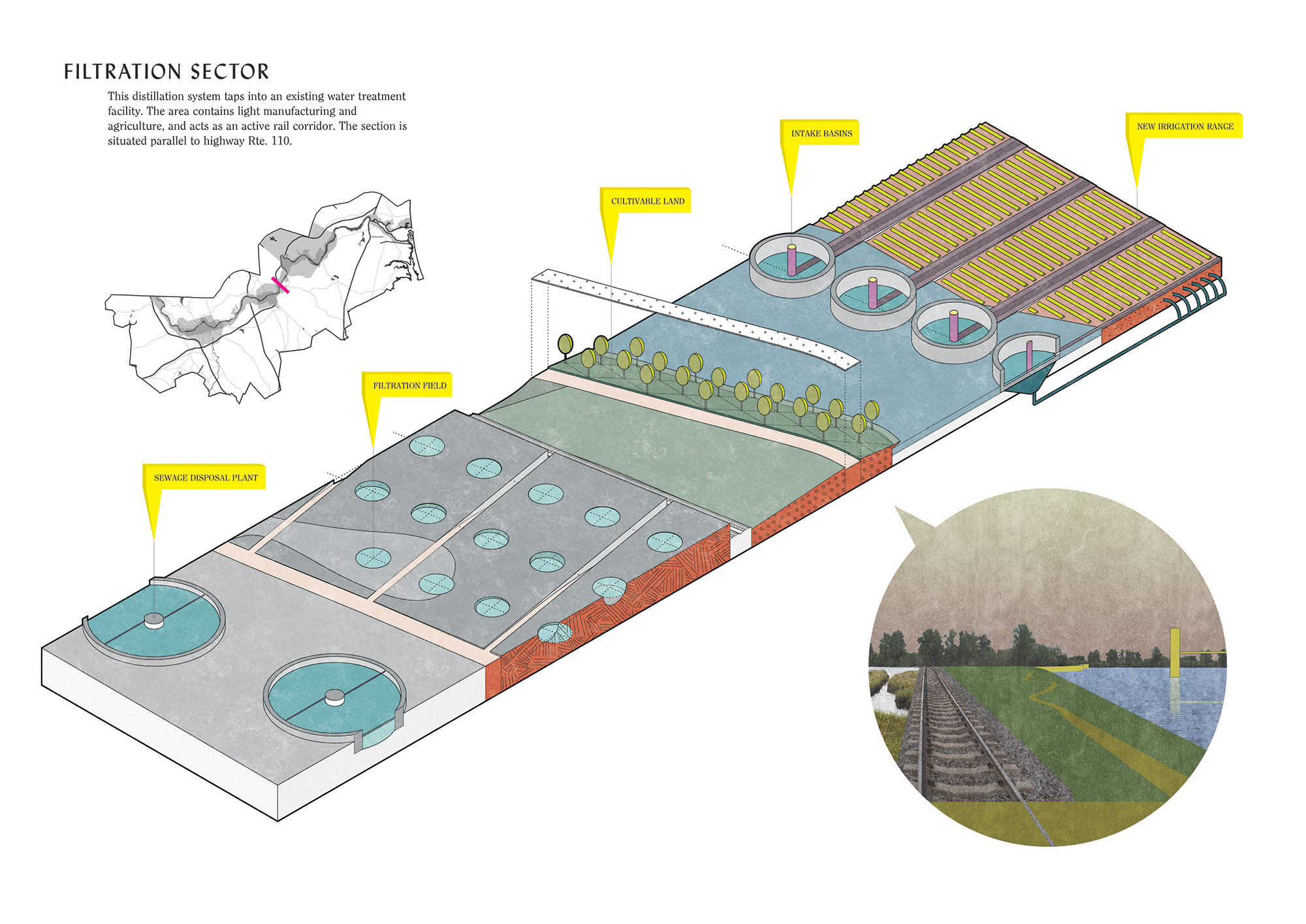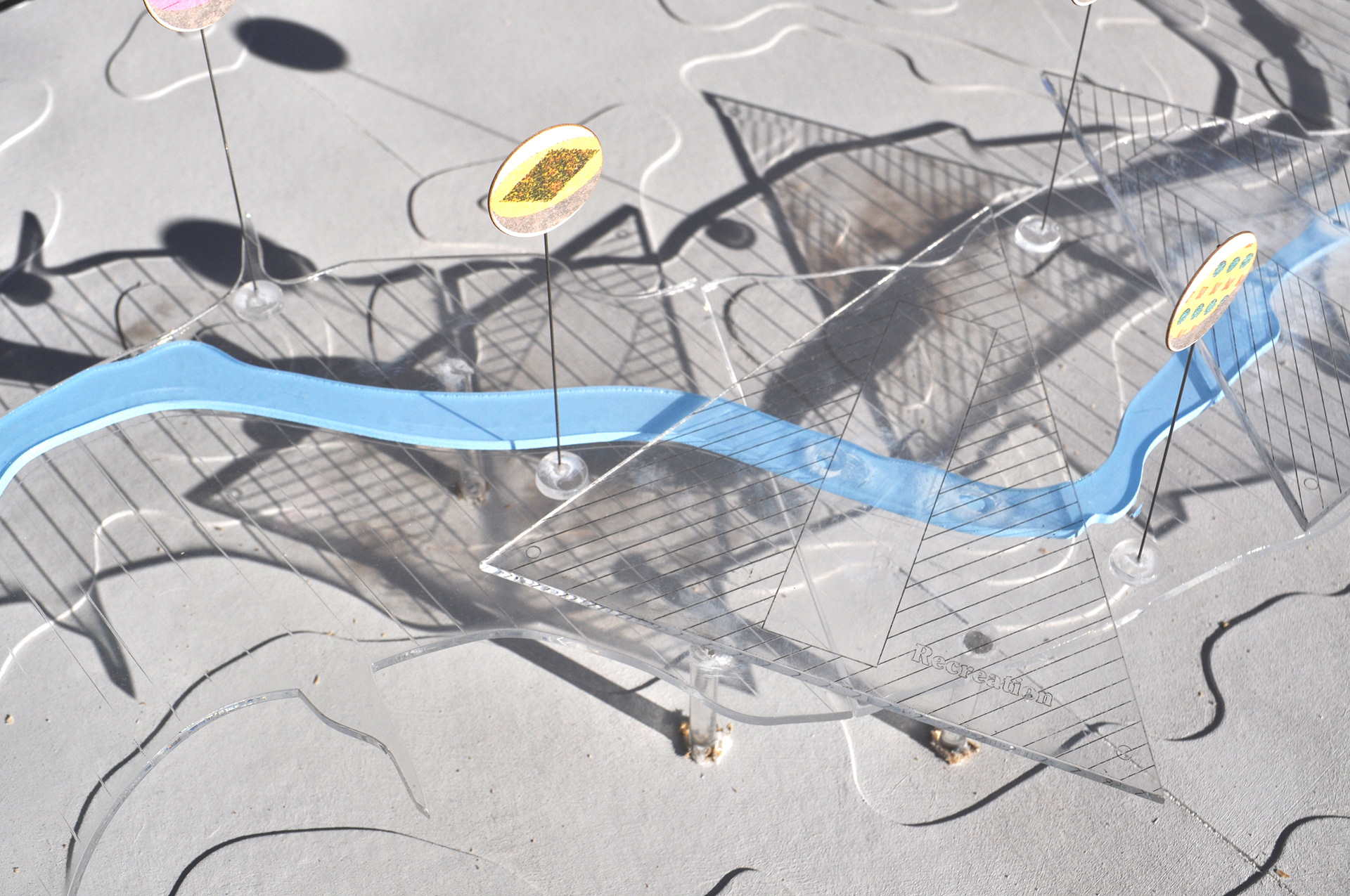 A regional governing body

And the final scale of operation is an organization tasked with supporting and managing future development adjacent to the river as well as expand regional transportation on land and water. This "chamber of commerce" represents all the towns along the Merrimack River in an effort to enable responsible development.


We see this series of operations as participatory, and each town contributing to the development of the greater park system. This strategy is also a means to target funding, from federal, state, and municipal resources, so towns are no longer competing with one another.


Our strategy addresses the fragmentation of these towns environmentally, culturally, and financially. As a result, the regional identity designed around the river will be used as leverage to share and balance resources, and to protect and improve the ecological and economic future of the entire region.
---
© 2023 Matthew Bohne — Brooklyn, New York